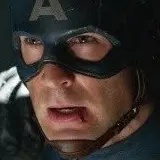 Captain America, the fourth and final player in the Summer 2011 Superhero Brigade, proved to second to none this weekend at the North American box office. Paramount/Marvel Studios' Captain America: The First Avenger rode a potent wave of hype and good reviews to cruise to the number one spot, easily displacing the final Harry Potter film which fell sharply to second following a record-setting opening weekend. While box office was off from last weekend's massive totals, the top ten for this weekend was up a very healthy 20% from this time last year and a big 30% from this time two years ago.
Arriving on 3,715 screens that included a mix of 3D and 2D screens, Captain America: The First Avenger earned a patriotic $65.8 million for a great per screen average of $17,719. The film opened almost on par with the previous Paramount/Marvel superhero release, last May's Thor. That film opened on a mix of 3D and 2D screens to the tune of $66 million. Unlike Thor, the 3D revenue percentage generated by Captain America was on the low side. Whereas Thor earned roughly 60% of its opening take from 3D venues, Captain America only earned 38% from the higher-priced 3D ticket sales. The Joe Johnston-directed fantasy adventure earned a solid 73% critical approval rating on Rotten Tomatoes while ticket buyers bestowed a "A-" on the film via Cinemascore exit polling. Captain America is the final Marvel superhero to make it to the big screen in advance of next spring's highly anticipated The Avengers.
After setting a record last weekend by earning a remarkable $169 million in its first three days, Harry Potter and the Deathly Hallows Part II cooled off in a big way in its second weekend by falling a steep 72% to an estimated $48 million off 4,375 screens. After ten days, the domestic total now stands at a remarkable $274 million. Overseas, the movie has earned $560 million to bring its overall total to the $834.5 million. The one billion dollar mark should be crossed within the next week or so.
Potter movies are always a front-loaded affair with a majority of the franchise's fans coming out to see the film in its opening weekend, so a steep fall was to be expected in the second round (the previous film dropped 62% in its second weekend). Depending on how fast the fade continues for Deathly Hallows Part II, the film should find its way to the $370-380 million mark in North America. This would be good enough to not only become the highest-grossing entry in the decade-old series (pre-inflation), it would also be enough to become the highest grossing film of the year.
In third place was the other debut of the weekend, Sony's Friends With Benefits starring Mila Kunis and Justin Timberlake. Opening on 2,926 screens, the well-received comedy earned an estimated $18.5 million and a solid per screen average of $6,323. The opening was in line with the similarly-themed No Strings Attached starring Natalie Portman and Aston Kutcher. That film opened in January with $19.6 million en route to a $70 million final gross. Unlike that film, Friends With Benefits was fairly well-liked by critics. They gave the film a 70% approval rating on Rotten Tomatoes.
In fourth place with an estimated $12 million in sales was Paramount's Transformers: Dark Of the Moon. Off 43% from last weekend, the film lost a majority of its 3D screens to Captain America, another Paramount property. After one month in the marketplace, the latest Michael Bay effects epic has earned $325 million. Overseas, the film has earned $556 million so far, making for a global haul of $882 million.
In fifth place while displaying another strong hold was Warner/New Line's comedy Horrible Bosses. Off 34% from last weekend, the Jason Bateman-comedy earned $11.7 million in its third round to bring its total to the $82 million mark. The film should cross the $100 million mark within the next two weeks and finish somewhere near the $115-120 million mark. Kevin James' Zookeeper also had a strong hold in its third weekend. Off 29%, the PG-rated family comedy earned an estimated $8.7 million to bring its total to the $59 million mark. It should finish between $70-75 million in domestic sales.
The remainder of the top ten was as follows:
7) Cars 2 (Disney/Pixar) $5.7 million (off 31% from last weekend, $176.4 million to date)
8) Winnie The Pooh (Disney) $5.1 million (-34%, $17.5 million)
9) Bad Teacher (Sony Pictures) $2.6 million (-49%, $94.3 million)
10) Midnight in Paris (Sony Pictures Classics) $1.89 million (+1.2%, $44.8 million)
Next weekend, Universal will debut Cowboys Vs. Aliens starring Harrison Ford and Daniel Craig, Warner opens Crazy, Stupid Love starring Steve Carell and Julianne Moore, and Sony will bestow upon us lucky souls… The Smurfs (in 3D, no less).
– Shawn Fitzgerald