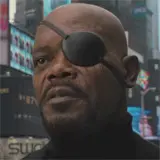 Captain America: The First Avenger ends as a continuation of its beginning, a bookend to how a Super Soldier from the past came to be an Avenger in the present.
Though Marvel's Captain America only opened in theaters a week ago, they aren't gun shy about sharing some of the secrets that await in the closing moments. With those secrets comes our first clean look at some of The Avengers superheroes.
Yesterday evening a portion of the film's final seconds set in the present day went online, followed by a trimmed down version of The Avengers trailer that appears after the credits role. It's a move designed to drum up more business as Cowboys & Aliens arrives in theaters, but for some it will be considered a major spoiler.
The full teaser trailer for The Avengers is not expected to be revealed until Captain America: The First Avenger comes to Blu-ray and DVD later this year. Even then, the trailer will be considered a major selling point for the set so don't expect an official full version to go online immediately on its release day.
Watch the end of Captain America: The First Avenger below, followed by several screen caps from The Avengers teaser trailer.