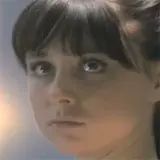 Syfy has released a pair of new clips for the third episode of Caprica, 'Gravedancing,' set to premiere tomorrow night.
The term "gravedancing" is directly referenced in the second clip below. In a show whose every character's morals are questionable and good intentions come at a premium, the "gravedancing" sequence stands out as a rare lighter moment in an otherwise turbulent setting.
Caprica stars Eric Stoltz, Alessandra Torresani, Esai Morales, Magda Apanowicz, Paula Malcomson and Sasha Roiz.
View the first clip below then head over to Facebook for the second.