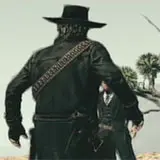 Now available in stores across North America is Ubisoft's Call of Juarez: Bound in Blood, the sequel to the sleeper FPS hit Call of Juarez that was available on the original Xbox and PC.
Following the story of the McCall Brothers, players enter a quest for the legendary Gold of Juarez leading them from a ravaged Georgia during the Civil War to the Aztec ruins of Mexico. The brothers, Ray and Thomas, make their lawless trail into a truly Wild West, using their superior gun-slinging skills to take out all of those that stand in their way.
Call of Juarez: Bound in Blood also brings the Wild West mayhem online. Gunslingers, bandits and marshals struggle online for bounty, and multiple character classes can be unlocked for use during team-based objective modes or the straightforward team death match. Call of Juarez: Bound in Blood introduces an innovative Bounty System, which increases the bounty on a player's head as they rack up more kills.
Call of Juarez: Bound in Blood is now available on PS3, Xbox 360 and the PC. It is the perfect cure to the common automatic weapons FPS blues as evidenced in the awesome old west launch trailer below.