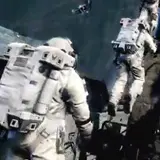 Activision has delivered the first gameplay footage from the single-player Call of Duty: Ghosts campaign that follows in its predecessors scripted and explosive footsteps.
The trailer starts off in orbit of earth and like the upcoming film Gravity, turns outer space into a death trap. It's quite bizarre to see astronauts using what appear to be machine guns with scopes while bouncing around in a gravity-free environment, but I'll go with it for entertainment's sake.
From there rockets are shot from space into various cities and all hell breaks loose. The Ghosts are seemingly sent around the world to counter the threat, including tanks deployed from an aircraft in a scene reminiscent of some other high profile shooter. I wonder which one?
The action in Call of Duty: Ghosts looks spectacular, even if it much of it is scripted and will play back identically each time through. That's what we expect from Call of Duty and few can execute it as well as the folks at Infinity Ward.
Activision will deploy Call of Duty: Ghosts for Xbox 360, PS3, Wii U and PC on November 5. The PS4 version drops November 15, while the Xbox One edition brings up the rear on November 22.
Pre-order Call of Duty: Ghosts on the platform of your choice with extra perks at Amazon.com.