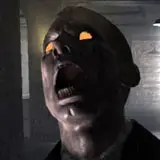 The inclusion of zombies in Call of Duty: Black Ops was finally confirmed by developer Treyarch today after months of speculation and assumption.
The zombie mode in Call of Duty: World at War turned out to be one of the most popular features of that game. It's really no surprise that Treyarch is carrying it forward to appease the zombie hunting faithful.
Thus far all we know about the Call of Duty: Black Ops zombie mode is that it will support four-player co-op and that it will feature a "surprise." We don't know yet if you will have to unlock zombie mode or if it will be available immediately upon booting up.
Pre-order Call of Duty: Black Ops for PS3 or Xbox 360 at Amazon.com. The game arrives in stores on November 9.