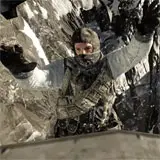 On ESPN's Monday Night Football during the game between the Minnesota Vikings and New York Jets, Activision and Treyarch will be airing an all-new single player trailer for next month's Call of Duty: Black Ops on Xbox 360 and PS3.
To preface tomorrow night's trailer, we've got a short preview that teases some of the new footage. Watch it below to see some Soviet snow action, a rocket blasting off, helicopters spinning out of control and more.
Pre-order Call of Duty: Black Ops for PS3 or Xbox 360 at Amazon.com. Look for it in stores starting on November 9.