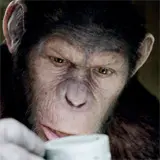 Twentieth Century Fox has released their first post-trailer image from Rise of the Planet of the Apes, the upcoming prequel/reboot project from director Rupert Wyatt.
The image is a close-up look at Caesar, the ape being cared for by James Franco's character who will eventually lead a rebellion of his kind against humanity. Caesar appears to be studying some sort of laboratory vial that may or may not figure into the plot.
Caesar is entirely computer generated via motion capture from a performance by Andy Serkis of Gollum and King Kong fame. Since Caesar will not speak in the film, its crucial that the animators are able to relay his thoughts through facial expressions. They're on the right track if this image is any indication. Those eyes say everything they need to.
Rise of the Planet of the Apes will help usher in the end of the summer movie season when it releases on August 5. Watch the Rise of the Planet of the Apes trailer in case you missed it, or click the Caesar image below to view the high resolution version.