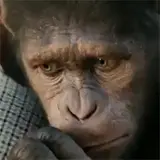 My interest in Fox's Rise of the Planet of the Apes went up several more notches thanks to a new emotionally driven international trailer that hit the web today.
It's no secret that the film's main star, Caesar, is a digital creation mapped on top of the motion capture performance of Andy Serkis (Gollum, King Kong). Caesar is not capable of speech so it's incredibly important that he's able to convey himself through facial expressions. Watch the trailer closely after Caesar comes to the rescue of John Lithgow and embraces him in a hug. There's definite emotion shining through the digitally rendered face.
This new international Rise of the Planet of the Apes trailer also gives us our first good look at how Tom Felton's character will figure into the plot. He's clearly not a nice guy as far as the apes are concerned, and will likely end up on the wrong end of the big ape revolution that will consume the film's third act.
Rise of the Planet of the Apes stars, in addition to Felton and Lithgow, James Franco, Brian Cox, David Oyelowo and Freida Pinto. Caesar will lead his apes to freedom in theaters everywhere on August 5.