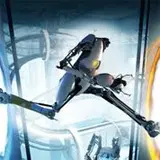 Were you planning on buying Mortal Kombat or Portal 2 this upcoming week? Or maybe considering picking up both games? If so, there are some great deals to be had.
The best deal out there right how is taking place at Toys R Us on Tuesday, April 19. If you purchase Mortal Kombat and Portal 2 from Toys R Us on that day, you'll get a $50 gift card toward a future purchase at the store. If purchased individually, you'd only earn a $15 gift card for each game.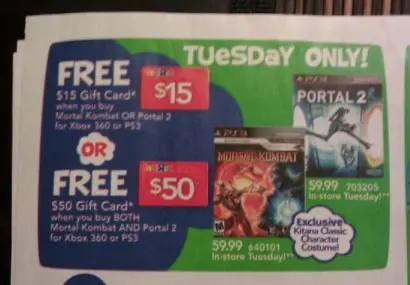 If you only want Portal 2 then Amazon.com is the place to go. In addition to selling the game for Xbox 360 or PS3 at $54.99, $5 cheaper than other stores, they're also offering a $20 gift card toward a future Amazon purchase when you pre-order the game prior to the April 19 release date. There's a deal on a Mortal Kombat pre-order as well, but it's not quite as enticing with a $10 gift card and exclusive reptile skin.
Click here to pre-order Portal 2 or here to pre-order Mortal Kombat at Amazon.com.
Source: CG