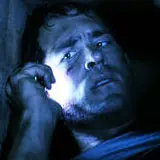 A new motion poster for Buried starring Ryan Reynolds (The Green Lantern) in a box has debuted over at Yahoo! Movies.
Reynolds plays a contractor working abroad in Iraq. After being clobbered into unconsciousness, Reynolds awakes to find himself stuffed into a wooden box buried deep in the ground. A cell phone and lighter are his only tools to escape certain death before a short supply of oxygen runs out.
View the eerie Buried motion poster over at Yahoo! Buried hits theaters in a limited release on September 24.