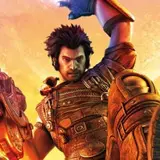 Epic's new game Bulletstorm has punched its way onto online retailer Amazon.com's Video Game Deal of the Day just a few short weeks after its debut on Xbox 360, PS3 and the PC.
The "kill with skill" shooter from the studio behind Gears of War is on sale for today only across all three versions. The sale price is $39.99 or 33% off the $59.99 list price.
If anything, Bulletstorm is a good time killer between now and March 22 when Crysis 2 drops and monopolizes gaming consoles and PCs across the globe.
Click here to take advantage of the Bulletstorm for under $40 sale price at Amazon.com.