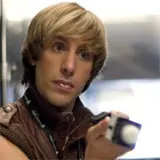 Universal's Bruno surprised no one by strutting away with an easy weekend box office win to the tune of an estimated $30.4 million.
The win is not sugarcoated for the flamboyant fashionista. A big $14.2 million opening on Friday dropped 39% into Saturday and again into Sunday. With Harry Potter and the Half-Blood Prince poised to strike, Bruno's anticipated run to $100 million may be cut short by the boy wizard.
The other newcomer this past weekend, I Love You, Beth Cooper with Hayden Panettiere, flailed to an unimpressive $5 million opening and the number 7 spot overall. Fox will have to hope for strong DVD and Blu-ray business for additional Beth Cooper revenue.
The rest of the field remained intact from last weekend with Ice Age: Dawn of the Dinosaurs narrowly topping Transformers: Revenge of the Fallen, while comedies The Proposal and The Hangover continue to impress with minimal drop-off.
The complete box office results for July 10-12 are as follows (click linked titles to read our review):
Harry Potter and the Half-Blood Prince takes flight on Wednesday next week and will absolutely destroy all competition with a flick of its magic wand. The only question is whether Potter can challenge the huge five-day opening numbers put up by Transformers 2 in June.
Aside from an extremely limited release of 500 Days of Summer, all other films have wisely steered clear of Potter's opening.