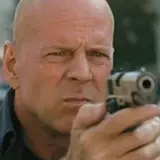 Bruce Willis is in talks to join Paramount's G.I. Joe 2: Retaliation as the man responsible for originally assembling the team that fights for freedom wherever there's trouble.
Willis, who Paramount has been courting for the film since early last month, would play General Joe Colton, the original G.I. Joe member who eventually took the handle "G.I. Joe" in the comics. He would, in theory, assume the authoritative role of General Hawk played by Dennis Quaid in G.I. Joe: The Rise of Cobra, and command the Joes in their next clash with Cobra.
G.I. Joe 2: Retaliation is being directed Jon M. Chu with Channing Tatum as Duke, Arnold Vosloo as Zartan, Ray Park as Snake Eyes and Byung-hun Lee as Storm Shadow the only currently confirmed cast members returning from the original. Joining the battle are Dwayne Johnson as Roadblock, Ray Stevenson as Firefly, Adrianne Palicki as Lady Jaye, D.J. Cotrona as Flint, Joseph Mazzello as Mouse, Elodie Yung as Jinx, RZA as Blind Master, and likely Bruce Willis as General Colton.
In case you missed it earlier, here's a look at The Rock as Roadblock.
Look for G.I. Joe 2: Retaliation in theaters on June 29, 2012, the coveted pre-July 4 spot vacated by J.J. Abrams' Star Trek 2 when it became obvious that sequel would not be ready in time.
Source: THR