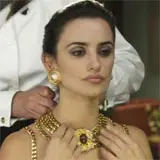 Sony Pictures Home Entertainment will bring Pedro Almodóvar's Golden Globe nominated for Best Foreign Language Film Broken Embraces to Blu-ray Disc and DVD on March 16.
Penélope Cruz reunites with Almodóvar (Volver) on Blu-ray in 2.35:1 1080p video and Spanish and French 5.1 DTS-HD Master Audio.
The complete list of bonus features that will be included with Broken Embraces on either format are as follows:
Deleted Scenes
"The Cannibalistic Councillor" (La Concejala Antropófaga) an original short film by Pedro Almodóvar
Pedro Directs Penélope
On the Red Carpet: The New York Film Festival Closing Night
Variety Q&A with Penélope Cruz
Click here to pre-order Broken Embraces on Blu-ray at a discounted price from Amazon.com.