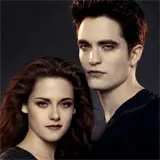 While Robert Pattinson and Kristen Stewart's personal life is under a piercing media microscope due to an infidelity scandal, Summit Entertainment is forging ahead in their promotional push for The Twilight Saga: Breaking Dawn Part 2 starring the two former lovebirds.
Newly released by Summit in the wake of all the tabloid fodder are 11 promotional stills featuring several of the core cast members striking overly dramatic poses. Robert Pattinson manages to find himself in 3 of the shots, while Kristen Stewart has to settle for a deuce.
Also represented in the Breaking Dawn Part 2 promo images are Taylor Lautner (Jacob) and the Cullen family: Jackson Rathbone (Jasper Hale), Peter Facinelli (Dr. Carlisle Cullen), Ashley Greene (Alice Cullen), Kellan Lutz (Emmet Cullen) and Nikki Reed (Rosalie Hale).
Noticeably absent is Mackenzie Foy as the newest Cullen and daughter of Bella and Edward, Renesmee. Summit has been cautious with releasing promotional materials featuring the child half-vampire and chose, for whatever reason, to keep her out of this round of imagery.
These image are the first real Breaking Dawn Part 2 splash since Comic-Con in early July. It was there that Summit and director Bill Condon exclusively screened the first seven minutes from the film. Bootlegs showed up briefly online before Summit went and had them all yanked.
The Twilight Saga: Breaking Dawn Part 2 will generate long lines of screaming girls when it brings the big-screen adaptation of Stephanie Meyer's to a close on November 16, 2012.