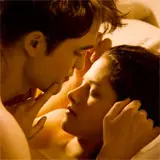 Kristen Stewart has dropped intriguing The Twilight Saga: Breaking Dawn comments, triggering a surge in interest in the film's home video release prior to the theatrical bow.
One of the most talked about scenes in the film is her character Bella's honeymoon with Edward (Robert Pattinson). The pair "do the deed" so-to-speak, glimpses of which have appeared in the various teasers and trailers released to date.
A headboard snapping shows director Bill Condon wants the sex to be powerful as, apparently, only a vampire can do. But Breaking Dawn is PG-13, so how far could they have possibly pushed the limits?
In a recent interview, Stewart opened up about the sex scene and admitted it was "weird" and "(they) didn't feel like we were doing a Twilight film." Then she dropped the bomb and said the film originally got an R-rating, presumably due to the sex scene, and had to be re-cut to get the final PG-13.
Now the big question is whether that R-rated cut will find its way to the Blu-ray and DVD release early next year. Thus far Summit has managed to keep the Twilight films teen-friendly, but that cut would certainly delve into new territory for the young adult film series.
Then again, the Breaking Dawn book pushed the limits and graphic content didn't hinder its sales or splinter its fanbase.
Source: Glamour UK