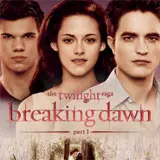 The Twilight Saga: Breaking Dawn Part 1 starring Robert Pattinson, Kristen Stewart and Taylor Lautner debuted last Friday at midnight with disc sales expectations in-line with the 3 million units moved by Eclipse, the previous film in the young adult vampire series, during its first 48 hours of availability.
In a display of continuing strength for Summit and Lionsgate's franchise, sales of Breaking Dawn Part 1 exceeded expectations by moving 3.2 million Blu-ray and DVD discs during the same duration of time. Of those, only 1 in 4 of the discs sold were Blu-ray as younger audiences with either part-time or no jobs opted for the less expensive DVD version.
Additionally, Breaking Dawn Part 1 was downloaded 50,000 times and included in 80,000 video on-demand viewings on Saturday and Sunday as well.
Revenue from Breaking Dawn Part 1 disc sales doesn't quite make up for the $412.5 million in cash Lionsgate paid for Summit Entertainment, but it's one heck of a solid start.
Fans who attended midnight launch parties for Breaking Dawn Part 1 on Blu-ray and DVD at select Target stores last Friday at midnight were treated to an exclusive clip from Breaking Dawn Part 2, the first footage released from the upcoming series conclusion. Watch the Breaking Dawn Part 2 clip.