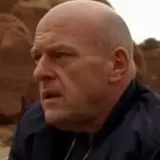 AMC's Breaking Bad and the story of Walter White is winding down, and more and more viewers are interested in seeing what ultimately happens the the teacher-turn-meth-mogul.
Last Sunday's episode 'Ozymandias' set a new franchise record with 6.4 million total viewers. That easily topped the previous record of 5.92 million held by the Season 6 premiere, and was a big 1.3 million jump from the episode only a week ago.
In the 18-49 demo, Breaking Bad pulled just over 4 million people, or roughly two-thirds of its total audience. It's no wonder that AMC is rushing to get the Breaking Bad spinoff Better Call Saul out the door, as the departure of the main show will leave an advertising void that will be tough to fill.
Part of the reason for the Breaking Bad viewership jump stems from the NFL Sunday Night Football game being delayed an hour due to lightning. That pushed many viewers who may have DVR'd Breaking Bad to watch it live instead.
With the Breaking Bad finale now only two episodes away and 'Ozymandias' being hailed as one of the best episodes yet, ratings are expected to continue to rise right into the finale where the series' ultimate high should be achieved.