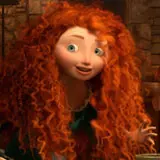 Pixar's latest animated feature Brave easily hit the bullseye and took first place at the North American weekend box office. It earned close to four times as much as Fox's Abraham Lincoln: Vampire Hunter, which missed the heart of moviegoers in its third-place debut. Thanks to the draw of Brave, the box office jumped up a healthy 26 percent over last weekend's top ten, but still trailed by seven percent from the same weekend last year.
Brave became the thirteenth consecutive Pixar film to open at number one with $66.7 million in business from Friday through Sunday, just ahead of last summer's Cars 2 which tallied $66.1 million. The well-received film scored a 73% approval rating on Rotten Tomatoes and an "A" CinemaScore rating. Exposure was not an issue with a 4,164-theater count, of which nearly 2,800 were 3D-equipped.
Many of the critics cited that while they enjoyed Brave, it wasn't the most original of tales in relying heavily on the Disney Princess model. This may be one of the reasons as to why the movie dropped four percent on Saturday, a day in which most animated features see their grosses increase thanks to family matinees. Still, a near-$67 million opening is nothing to sneeze at, and given the chord that the movie will most likely strike with moms and their daughters, chances are that Brave should have no trouble zipping past Cars 2's final domestic gross of $191 million.
It was expected that Dreamworks' 3D animated hit Madagascar 3: Europe's Most Wanted would take a sizable hit due to Brave's opening. However, the popular comedy managed to hold its own quite well by dropping only 40% in its third weekend. Still traveling around at 3,920 theaters, Madagascar 3 earned a solid $20.2 million to bring its 17-day total to the $157.5 million. If it holds, Madagascar 3 should clear a terrific $200-210 million in domestic sales.
Apparently I wasn't the only one who thought Abraham Lincoln: Vampire Hunter looked like a pretty silly movie. Despite the presence of Wanted director Timur Bekmambetov and producer Tim Burton, people opted to spend their ticket money elsewhere as the R-rated history/horror mash up suffered the cinematic equivalent of a wooden stake through its heart with only $16.5 million in its opening weekend. A whopping 61 percent of Rotten Tomatoes gave the film a "thumbs down," and those who did travel out to the theater to see Abe Lincoln slaughter vampires weren't all that thrilled either. They bestowed the movie with a bad "C-" CinemaScore rating which may explain the 10% Friday-to-Saturday drop in business.
Another R-rated genre picture from Fox, Ridley Scott's Alien pre-prequel Prometheus, dropped by half from its second weekend's earnings to bring in an estimated $10.5 million. After three weeks, Prometheus has earned $108.5 million and should finish up its North American run between $125-130 million. Overseas, the movie has earned $152 million thus far to bring its global total to the $260 million mark.
The weekend's other wide release, the Steve Carell and Keira Knightley comedy/drama Seeking a Friend for the End of the World, experienced difficulty locating viewers for its opening weekend. The $10 million Focus Features production opened at 1,625 locations to land in tenth place with a poor $3.8 million.
The news was a bit better for Sony Picture Classic's debut of Woody Allen's latest To Rome With Love. The film opened in only four theaters but managed to bring in a huge $379,000.
The two debuting duds from the previous weekend held up better than expected in their second rounds. The '80s metal musical Rock of Ages was only off 44% from its tone-deaf debut. Tom Cruise and company rocked out an estimated $8 million to bring its ten-day total to $28.7 million. The Adam Sandler comedy That's My Boy! had an even better hold than Ages did by easing 41% to land in seventh place with an estimated $7.2 million. After ten days, the R-rated comedy has earned $28.1 million.
The remainder of the top ten was as follows:
6. Snow White and the Huntsman (Universal) $8.0 million (-39%) $137 million to date
8. The Avengers (Disney/Marvel) $7 million (-20%) $598 million to date
9. Men in Black III (Columbia) $5.6 million (-44.3%) $163.3 million
Next weekend, Pixar's Brave will face off against four new competitors hoping to nudge the princess off her box office throne. Universal unleashes the talking teddy Ted, Disney debuts People Like Us, Warner reveals Magic Mike, and Lionsgate uncovers Madea's Witness Protection.
– Shawn Fitzgerald