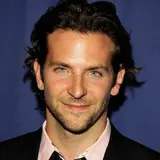 Bradley Cooper has emerged as the frontrunner for Relativity's remake of The Crow and is currently in early negotiations with the studio for the lead, per THR.
The original film was released in 1994 and starred Brandon Lee as Eric Draven, a musician who returns from the dead with supernatural powers to avenge his and his fiancee's murder. Lee was killed in a tragic accident during production, but the film was completed and released with his scenes intact.
The Crow remake is being directed by Juan Carlos Fresnadillo (28 Weeks Later) and follows a similar storyline inspired by James O'Barr's black-and-white Gothic-toned comic of the same name. Cooper will play a rock musician who is murdered trying to protect his fiancee from thugs.
Fresnadillo is said to have met with Cooper in Spain and share a similar vision for the character. Whether Cooper is hired or not, The Crow production is scheduled to get underway this fall.
Last October it was reported that Mark Wahlberg was offered the title role before a director had been brought on board. That report, and any news on The Crow remake, fizzled into silence until Fresnadillo was officially hired to direct a little over a week ago.
Bradley Cooper will next be seen in The Hangover Part II.
Source: THR