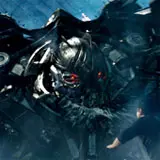 Someone attending a screening last night or this morning got ballsy and smuggled a video camera into the theater and recorded the third and likely final trailer for Transformers: Revenge of the Fallen.
The trailer hit YouTube and racked up thousands of hits before Paramount and Dreamworks (and Michael Bay?) had it yanked. Why it lasted as long as it did is anyone's guess, but the trailer's shoddy picture quality will likely send even more people to Yahoo! Movies tomorrow for the real HD deal.
If you came here hoping to see the bootleg then I'm sorry, it's not here. If you're savvy enough with a search engine and think logically then it isn't too hard to find.
I've seen it a few times now and can't wait to pick it apart frame-by-frame tomorrow around 4:30PM EST. Though some of the footage is borrowed from the ShoWest reel, there is still a ton of new stuff including Devastator on the attack and climbing a pyramid at Giza. And yes, Megan Fox bends over wearing "short shorts."
Friday's GI Joe: The Rise of Cobra trailer better knock it out of the park or else the giant f*cking robots will walk all over it.