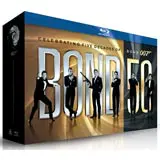 MGM is polishing off the James Bond Blu-ray collection of nine missing films in one swift stroke by including all of them, along with the previously released 13 films, in the Bond 50 Blu-ray box set to celebrate the 50th anniversary of 007.
The collection box set will feature all 22 James Bond films in one tidy package. Over 130 hours of bonus features will be spread between the films, along with some new as-of-yet detailed exclusive content.
At this time there is no indication MGM is releasing the nine Bond films previously unavailable on Blu-ray as individual releases. Those films are Goldeneye, Octopussy, The Spy Who Loved Me, You Only Live Twice, The Living Daylights, Tomorrow Never Dies, Diamonds are Forever, A View to a Kill and On Her Majesty's Secret Service.
MGM isn't offering a release date for the Bond 50 Blu-ray set just yet other than to confirm it is coming this year. A third or fourth quarter release is likely. The list price is set at $299.99.
Check out the Bond 50 Blu-ray box art below, as well as a trailer for the release that features clips from many of the Bond films in the set, as well as former Bond girls Olga Kurylenko (Quantum of Solace) and Caterina Murino (Casino Royale) helping announce the release at CES in Las Vegas this past Tuesday.
Click here to pre-order Bond 50 on Blu-ray for $199.99 at Amazon.com, 33% off the $299.99 list price.