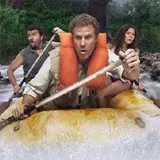 Thanks to a new active listing at online retailer Amazon.com, we have learned Universal Studios Home Entertainment will unleash Land of the Lost on Blu-ray Disc and DVD on October 20.
Land of the Lost stars Will Ferrell, Anna Friel and Danny McBride in a theatrical adaptation of the 1970s television show (read our review). With just under $49 million in domestic box office ticket sales, it failed to reach half of its $100 million budget under the weight of abundant potty humor.
Universal has not formally announced Land of the Lost as of yet so there is no additional information to share at this time. You can get in on the $27.99 Blu-ray pre-order at Amazon by clicking here.