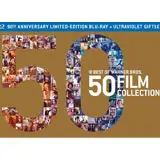 Amazon.com has updated their ongoing Blu-ray Deal of the Week to shine a spotlight on the massive Best of Warner Bros. 50 Film Collection box set spanning 52 discs that was first released earlier this year. This is the largest Blu-ray collection produced to date.
From now through next Saturday, July 13, Amazon has put this set on sale for $184.99. That works out to 69% off the nearly $600 list price, and more than a $100 off what Amazon typically sells it for. At $184.99, each film is priced at just over $3 each.
This box set is great for Blu-ray adopters whose collection is still in its infancy and want to give it a major boost in one swift stroke. There are a mix of high profile and lesser known titles, including 16 Best Picture winners. If you tried to go outside of this set and buy just the more recent films that are available on Blu-ray as individual releases, you would have to spend a good $75 more than the sale price of this set.
Click here to buy the Best of Warner Bros. 50 Film Collection for $184.99 at Amazon.com.
Here is a quick rundown of all 50 films in the Best of Warner Bros. 50 Film Collection Blu-ray set. The Best Picture winners are denoted by an asterisk.
1. Grand Hotel* (1932)
2. Mutiny on the Bounty* (1935)
3. Gone with The Wind* (1939)
4. Wizard of Oz (1939)
5. Maltese Falcon, The (1941)
6. Citizen Kane (1941)
7. Mrs. Miniver* (1942)
8. Casablanca* (1942)
9. Treasure of the Sierra Madre, The (1948)
10. American in Paris, An* (1951)
11. Streetcar Named Desire, A (1951)
12. Singin' in the Rain (1952)
13. Gigi* (1958)
14. Ben-Hur* (1959)
15. North By Northwest (1959)
16. How the West Was Won (1962)
17. Doctor Zhivago (1965)
18. Cool Hand Luke (1967)
19. 2001: A Space Odyssey (1968)
20. Bullitt (1968)
21. Dirty Harry (1971)
22. Willy Wonka & The Chocolate Factory (1971)
23. Clockwork Orange, A (1972)
24. Exorcist, The (1973)
25. One Flew Over The Cuckoo's Nest* (1975)
26. Superman, The Movie (1977)
27. Shining, The (1980)
28. Chariots of Fire* (1981)
29. Risky Business (1983)
30. Amadeus* (1984)
31. Color Purple, The (1985)
32. Full Metal Jacket (1987)
33. Lethal Weapon (1987)
34. Driving Miss Daisy* (1989)
35. Goodfellas (1990)
36. Bodyguard, The(1992)
37. Unforgiven* (1992)
38. Natural Born Killers (Director's Cut) (1994)
39. Matrix, The (1999)
40. Harry Potter and the Sorcerer's Stone (2001)
41. Lord of the Rings: The Fellowship of the Ring (2001)
42. Lord of the Rings: The Two Towers (2002)
43. Lord of the Rings: The Return of the King* (2003)
44. Million Dollar Baby* (2005)
45. Departed, The* (2006)
46. Dark Knight, The (2008)
47. Blind Side, The (2009)
48. Hangover, The (2009)
49. Sherlock Holmes (2009)
50. Inception (2010)