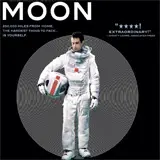 The Duncan Jones sci-fi thriller Moon starring almost exclusively Sam Rockwell and the voice of Kevin Spacey is currently on sale in its Blu-ray Disc incarnation for an out of this world low price.
Right now Amazon is selling Moon on Blu-ray for $8.99 which equates to 64% off its $24.95 list price. It typically sells for anywhere between $15 and $20.
Moon's intelligent concept and great performances garnered a lot of well-deserved praise for Jones and helped him land the directing gig for Summit Entertainment's upcoming thriller The Source Code starring Jake Gyllenhaal, Michelle Monaghan and Vera Farmiga. Jones is certainly an up-and-coming talent in Hollywood, and Moon is a great example of what he's capable of.
Click here to buy Moon on Blu-ray for $8.99 at Amazon.com.
Recommendation: If you haven't seen the trailer yet then avoid it. It's a little too revealing and the film works much better going in with minimal knowledge.