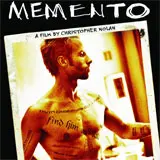 For many people, myself included, Memento starring Guy Pearce is the film that put director Christopher Nolan on our radar. The story of a man with short-term memory loss on the hunt for his wife's killer, based on a short story by his brother, Jonathan, was wonderfully written by Christopher. Successfully telling the story in reverse was the icing on the cake.
Memento is one of those must-own Blu-ray titles, so it becomes a big deal when there's a sale going on and it can be picked up for cheap. Right now Amazon.com is selling Memento on Blu-ray for only $6.99, or a little more than the cost of a combo fast food meal.
Thanks to Amazon's deal, Memento has shot up to the number two spot on Amazon's Blu-ray bestsellers list, trailing only HBO's Game of Thrones: Season 1. Can it overtake Lord Stark and pals?
Click here to buy Memento on Blu-ray for $6.99 at Amazon.com, while supplies or the sale price lasts.