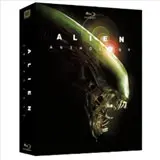 You know the holiday shopping season, Black Friday and Cyber Monday are close by when deal like Alien Anthology on Blu-ray for only $25 bucks pop up.
You read that right. For today only, as the featured item in Amazon.com's Gold Box Deal of the Day, Alien Anthology on Blu-ray is on sale for $15 less than the $39.99 it typically sells for. This the cheapest price I can ever recall seeing the lavish box set being available at, the previous low being $30.
This set is considered the definitive Alien home video collection and for good reason. For only $25 bucks you get Ridley Scott's Alien, James Cameron's Aliens, David Fincher's Alien 3, and Jean-Pierre Jeunet's Alien Resurrection, plus over 65 hours of various bonus features related to each film. You would have to take time off work to watch it all.
Because Alien Anthology on Blu-ray is priced $25 and not $24.99, it qualifies for free shipping. Can't beat that.
This deal will end when the clock strikes midnight tonight.
Click here to buy Alien Anthology on Blu-ray for only $25 with free shipping at Amazon.com.