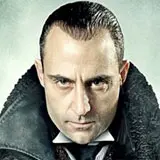 A fourth character poster has surfaced from Guy Ritchie's adaptation of Sherlock Holmes starring Robert Downey Jr., Jude Law and Rachel Adams – all of whom were featured on previous posters.
This new poster swings the pendulum to evil's side depicting nemesis Blackwood (Mark Strong) who will look to outwit and beat Holmes and Watson. The "depraved adversary" comes complete with furry pimp garment, slicked back hair and complimentary menacing scowl.
Sherlock Holmes will begin investigating theaters on Christmas Day.
Source: MSN Movies