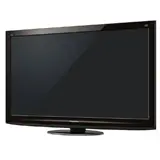 To help ring in Black Friday week, here's a deal Amazon.com has put together for their Plasma 3D HDTVs, the highest rated 3D TVs currently on the market.
For a limited time, Amazon is offering a free Panasonic 3D Blu-ray Disc player and 3D Starter Kit (2 pairs of glasses along with Ice Age: Dawn of the Dinosaurs and Coraline on Blu-ray 3D) with the purchase of a select Panasonic 3D HDTV – all with free shipping. With the purchase of a Panasonic 3D set you will immediately qualify to send away for James Cameron's Avatar on Blu-ray 3D when it becomes available on December 1.
The TV models available in the offer are the Panasonic TC-P42GT25 and Panasonic TC-P50GT25, while the 3D Blu-ray player is the Panasonic DMP-BDT100.
You can read more about the offer including pricing on the sets or take advantage of it right here at Amazon.com.