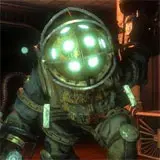 2K Games has announced BioShock's anticipated arrival on Playstation 3 will be October 21 in North America and October 24 everywhere else.
New and obviously exclusive to the PS3 version is a Survivor difficulty level, Trophy support and Add-On game content in the form of Challenge Rooms.
We got to see one of these Challenge Rooms demonstrated at E3 last month and they're going to be a lot of fun to play around in. In the example shown, you had to rescue little sister from the top of a Ferris wheel by solving puzzles to make the wheel turn.
Anything goes in the Challenges as Rapture enemies aren't too interested in letting you do whatever you want without repercussions.
Expect BioShock on Playstation 3 to carry an SRP of $59.99.