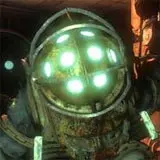 The seas around Universal's attempts to bring BioShock to the big screen have been calm since the studio put the brakes on the project back in April amidst budget concerns.
At the time, Pirates of the Caribbean director Gore Verbinski was on board to direct after turning down Pirates of the Caribbean 4 but was forced to bail when the only option to keep the project afloat was to shoot overseas. Unwilling to relocate for an extended period of time, Verbinski jumped shift and left Universal without a captain.
According to Variety, Universal is luring Spaniard Juan Carlos Fresnadillo into the director's chair for BioShock. Fresnadillo is best known for writing and helming 28 Weeks Later and before that the Spanish thriller Intacto.
Game publisher Take-Two Interactive has the final say on BioShock's director and has yet to give a formal thumbs up to Fresnadillo. Should he come on board, which is looking likely, the John Logan script is already complete so pre-production somewhere abroad could start moving forward quickly.
Meanwhile Take-Two recently delayed BioShock 2 for Xbox 360 and Games for Windows into 2010 for quality control reasons. An exact release date has yet to be announced but rumors suggest a January or February appearance.