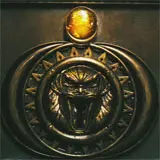 Beautiful Creatures is the next film in a long line of young adult novels being adapted for the big screen in hopes of striking Twilight or The Hunger Games success. After this first trailer, it's still to early to tell if Beautiful Creatures will slant more toward the Twilight side or stall out the gate like I Am Number Four.
The trailer sets up a world where magic and dark secrets are commonplace. There's a spooky house with several tricks up its sleeve, and from what I can tell at least one character transformation into something "else."
Those of who whom have read the Beautiful Creatures book by Kami Garcia and Margaret Stohl, the first in a series of best-selling tales, are probably screaming at me right now for that last sentence. Maybe it's a plus that Warner Bros. is keeping what happens to these characters vague for the time being. Unpredictability is never frowned upon.
Beautiful Creatures is directed by Richard LaGravenese (P.S. I Love You) and stars Alice Englert, Alden Ehrenreich, Jeremy Irons, Emmy Rossum, Viola Davis and Emma Thompson. The first of what could be several films in the potential franchise will conjur up some dark magic when it arrives in theaters on February 13, 2013.