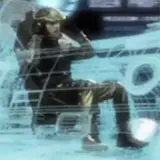 Battlestar Galactica: Blood and Chrome actually exists. I was beginning to think otherwise given SyFy and producer David Eick's silence about the two-hour pilot shot roughly a year ago.
During this past weekend, SyFy unveiled the first footage from Blood and Chrome, a Battlestar Galactica spin-off two-hour pilot set during the first Cylon War. It stars Luke Pasqualino (Skins) as ensign William "Husker" Adama, assigned to his first duty aboard the Galactica and immediately sent on a critical top secret mission involving a snowy planet.
Blood and Chrome dispenses with the reliance on political and religious games that defined Caprica, the previous Galactica spin-off whose lack of action and compelling storytelling drove it into cancellation. Instead, Blood and Chrome chases adrenaline and puts the emphasis on action as the humans and Cylons square off in the tenth year of their firs war. There will be the familiar politics and social propaganda as well, but as this sizzle reel demonstrates, action fueled by a heavy reliance on CGI sets is the name of this game.
There's a strong chance we could see the Battlestar Galactica: Blood and Chrome pilot air before this year is out now that SyFy has begun promoting it. If the pilot is truly a "game changer" as they suggest and the pilot draws a huge audience and praise, Blood and Chrome will eventually become the third modern Battlestar Galactica series.
Source: AICN