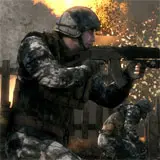 Battlefield: Bad Company is about to get a big boost with news a new Community Choice Map Pack will be available for free today on PS3 and tomorrow on Xbox 360.
The pack includes four brand new conquest multiplayer maps, gameplay enhancements and PS3 Trophy support.
The first two maps were chosen by the Battlefield Community from a poll of single-player maps with the winners being Par for the Course and Acta Non Verba. The other two were chosen by the development team: Ghost Town and Crossing Over.
Battlefield: Bad Company has been available for PS3 and Xbox 360 since late June.