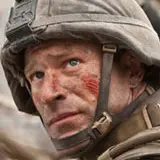 Those of you with D-BOX Motion Control seating at your local multiplex will be happy to learn that the next film to support D-BOX in theaters will be the March 11 release of Battle: Los Angeles.
The alien invasion film's trailers are full of gunfire, explosions and action which is perfectly suited for D-BOX. If the full film plays out anything like the trailers then Battle: Los Angeles could go down as one of the most impressive D-BOX experiences to date.
Battle: Los Angeles stars Aaron Eckhart, Ramon Rodriguez, Bridget Moynahan and Michelle Rodriguez. You can watch the impressive extended trailer here and read an interview with Neil Brown Jr. who portrayed one of the Marines in the film here.
Visit D-BOX.com for a list of theaters in the US and Canada that have installed the Motion Control seats.