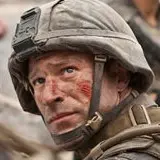 Battle: Los Angeles scored Sony Pictures another first place finish at this weekend's box office. The loud alien invasion flick easily passed the other two new films in the marketplace, Warner's Red Riding Hood and Disney's Mars Needs Moms, the latter whose opening was downright terrible. Overall, the top ten box office stayed level with last week's group thanks to Battle: Los Angeles, but ran roughly 13% below last year's top ten at this time when Alice In Wonderland scored a $62.7 million second weekend gross.
Scoring their fourth number one opening for 2011 following The Green Hornet, The Roommate and Just Go With It, Sony unleashed Battle: Los Angeles on 3,417 screens for a big $36 million estimated gross, the second biggest of the year right behind Rango. The film was directed by Jonathan Liebesman (The Texas Chainsaw Massacre: The Beginning) and stars Aaron Eckhart, Michelle Rodriguez, Bridget Moynahan and Michael Pena. Battle: LA, whose ad campaign made the film look like a mash-up of District 9, Independence Day and Black Hawk Down, was attacked by critics (32% on Rotten Tomatoes) for its overabundance of war film clichés, terrible dialogue and non-descript characters (What were they expecting, The King's Speech?).
The ad campaign also effectively sold plenty of explosions and destruction which hit a cord with its target audience: men under 25. That demographic bestowed the film with an "A" rating in exit polls while others gave the film a Cinemascore rating of "B". The film also opened day-and-date in selected markets overseas to nab $16 million in ticket sales. Unless it suffers a dramatic drop next weekend we should be hearing about Liberate: Los Angeles or something to that effect in the coming months.
Following its solid opening last weekend, Paramount's 2D animated hit Rango saw more green this weekend (and we're not talking about the color of its main character). The Gore Verbinski-directed comedy eased by a moderate 39% to corral an estimated $23 million from 3,923 saloons to bring its ten-day total to the $68.6 million mark. The $135 million production should pass the $100 million mark within the next two weeks and could finish its domestic run between $125-130 million.
Arriving as counter-programming to Battle: Los Angeles, Warner's PG-13 horror film Red Riding Hood landed on 3,030 screens to gross a mild $14.1 million and an okay $4,665 per screen average. Directed by Twilight helmer Catherine Hartwicke, Warner attempted to make the most out of her connection to the wildly popular franchise to lure that audience (tween girls) to this revised take on the Little Red Riding Hood tale which stars Amanda Seyfried and Gary Oldman. But no matter how much they used the "T" word in the ad campaign, few were duped by it. Count the nation's critics among the latter group as they bestowed the $40 million production with a rancid 11% approval rating on Rotten Tomatoes.
Like Rango, Universal's The Adjustment Bureau had a decent hold in its second weekend. As one of the few 'date night' movies in the market for adults, the film held better than anticipated. The Matt Damon flick eased by 45% on 2,847 screens to land an estimated $11.4 million in sales to bring its total to the $38.4 million mark. Watch for the George Nolfi-directed adaptation of the Philip K. Dick story to finish with a decent $60-65 million in domestic ticket sales.
The soft opening for Red Riding Hood was nothing compared to the dire opening for the third wide release of the weekend, Disney's Mars Needs Moms, which imploded on 3,117 screens for a terrible $6.8 million estimated haul and a pathetic per screen average of $2,182. Several factors helped make the opening for Mars look like an even bigger disaster. The first is the estimated $200 million that Disney spent on the production and advertising. Unless the movie becomes a runaway smash outside North America, there is little to no chance that the film will recoup its price tag in the foreseeable future (if ever). The second is that the majority of the screens showing the movie in 3D and IMAX 3D. As we all know by now, ticket prices for these venues are higher than normal 2D screens and should have helped inflate the movie's opening. Not a chance. I'm sure that the 42% approval rating from North American critics didn't help much either.
The remaining top ten spots were holdovers from previous weeks with two films tied for sixth place according to estimates. CBS Films' new take on the Beauty and the Beast tale, Beastly, dropped by 48% to land in sixth place while earning $5.1 million from 1,959 screens. After ten days, its total stands at an underwhelming $17 million. The film should call it a day with roughly $27 million in the bank. Seventh place went to the Farrelly Brothers comedy Hall Pass which dropped by 42% in its third weekend to also earn $5.1 million. The Warner/New Line comedy has earned $35 million to date and could finish with a $45 million haul.
In ninth place was the long-running Oscar winner The King's Speech which added $3.625 million as it entered its fourth month of release to bring its domestic total to the $129 million mark with a final total of $140 million in sight in advance of its April 19 home video debut. As of Thursday, the Colin Firth/Geoffrey Rush drama has earned a royal $187 million overseas.
Rounding out the top ten this weekend was Disney's other 3D animated comedy, Gnomeo and Juliet. The film took a hit when Rango opened last weekend and took another hit this weekend when Mars Needs Moms arrived (although this film should last longer in theaters than that will). It dropped 51% to earn $3.5 million in its fifth weekend to bring its total to the $89 million mark. The film still has a good shot at joining the century club by the end of its run.
Next weekend, three new films arrive to challenge Battle: Los Angeles for the top spot: The Lincoln Lawyer, Bradley Cooper in Limitless and the sci-fi raunchy comedy Paul.
– Shawn Fitzgerald