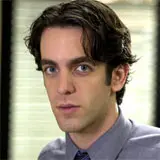 THR is reporting B.J. Novak will step out of The Office and join the fight against Nazi's in Quentin Tarantino's re-imagining of Inglorious Bastards.
Novak, who is reportedly in the late stages of negotiations, will fill the role of PFC Utivich whose generalized description is "a soldier of slight build who comes from New York."
Should Novak come on board he may join Brad Pitt who has been rumored to have already landed the role of the Bastards' Jewish resistance fighters lead. Leonardo DiCaprio was also rumored for a role but that chatter has since been debunked.
THR also claims Inglorious Bastards should go to lens this fall around Europe in time for a possible Cannes debut next May. This contradicts other reports stating a 2010 arrival. We should know one way or the other soon enough.
Join the glorious Inglorious Bastards discussion in the HDR Forums.