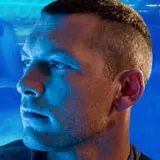 The next trailer for James Cameron's Avatar that debuted in theaters last weekend is scheduled to be released online at 10am tomorrow morning. But why wait? Time zones are our friend.
The international version of the same trailer has arrived and delivers on Fox and Cameron's promise to present a clearer picture of the story. There are also tons of new effects shots which should look jaw dropping in 3D.
Avatar stars Sam Worthington, Zoe Saldana, Sigourney Weaver, Michelle Rodriguez and Giovanni Ribisi. It hopes to set box office records upon arrival in theaters on December 18.
The high definition version of the Avatar trailer is up for viewing at TrailerAddict. We'll have the official U.S. version to share tomorrow morning.