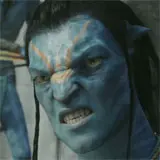 Curiosity in James Cameron's Avatar on Thursday lifted its trailer debut to become the most watch on Apple.com ever.
The trailer drew over 4 million views its first day of availability. The previous unnamed record holder stood at a less than half 1.7 million.
The Twilight Saga: New Moon's first trailer remains the cross-site download champ. It managed 4.2 million views between debut websites MySpace and MTV. One week later and New Moon had crossed 10.6 million trailer downloads.
Watch the Avatar trailer here if you missed it.
Source: Variety