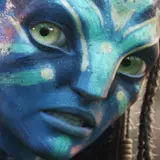 James Cameron's Avatar fought a nasty east coast storm and still managed a strong $77 million opening weekend at the US box office, good enough for the second highest December opening behind I Am Legend's $77.2 million. Factoring in international sales brings Avatar's total gross thus far to $241.6 million with sunny skies and holiday breaks for more business ahead.
Guessing Avatar was crucial to where players placed in our Weekend Box Office Prophet game. The top score went to a new player with an ironic name, RandomAvatar, who missed all 5 films eligible in the game (Avatar, Invictus, Did You Hear About the Morgans?, The Princess and the Frog, The Blind Side) by a mere $11.4 million. Speng and mailmax11 finished second and third, respectively.
When push came to shove the Prophet beat all the other players by a three-to-two margin (view the results) which means the three prizes up for grabs will roll into the next round and be joined by a fourth. That round featuring Sherlock Holmes will go live Tuesday, December 22. Be sure to stop back and get your predictions in.