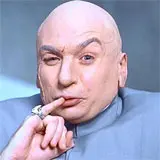 Today's Amazon.com Gold Box Deal of the Day is Blu-ray themed around all three films in Mike Myers' Austin Powers trilogy.
For today only, the Austin Powers Collection: Shagadelic Edition Loaded With Extra Mojo on Blu-ray Disc is priced at $32.99 or 56% off its $74.98 list price. The standard discount off list at Amazon is usually around 30%.
The Austin Powers Collection was originally released in December 2008 on Blu-ray and includes International Man of Mystery, The Spy Who Shagged Me, and Goldmember. At this price you would be paying $11 per film.
Click here to buy the Austin Powers Collection on Blu-ray for $33 at Amazon.com. Again, the sale lasts through today or while supplies last.