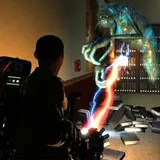 In mid-October, Dan Akroyd let slip on a Dallas talk radio show that Atari had picked up the publishing rights to Ghostbusters: The Videogame from Sierra/Activision Blizzard and would release the game in mid-2009.
Nearly a month later, Atari has issued a press release finally confirming they have indeed acquired the rights and will publish the game sometime in 2009 (rumors suggest the third quarter). Appropriately, next year happens to be the first film's 25th anniversary.
The game takes place 2 years after Ghostbusters II and features the first collaboration between the original cast member, Bill Murray, Dan Aykroyd, Harold Ramis, and Ernie Hudson, since then. In addition to the core four Ghostbusters providing voices, William Atherton (Walter Peck), Annie Potts (Janine Melnitz) and Brian Doyle-Murray (portraying Mayor Jock Mulligan) also appear in the game.
Literally days before Activision Blizzard announced they would not be publishing Ghostbusters, we were sent a preview build of the Library level for Xbox 360 (read those impressions here). The game is a blast and very respective and indicative of the Ghostbusters property.
On the home video front, Sony Pictures Home Entertainment has also confirmed the Blu-ray Disc debut of Ghostbusters and Ghostbusters II is back on track for 2009, likely timed to coincide with the game's release. Other products planned include toys, t-shirts, comic books, prop replicas, and a theme park attraction.
Ghostbusters: The Videogame will be released on Xbox 360, Playstation 3, Playstation 2, Nintendo Wii, Nintendo DS and the PC.