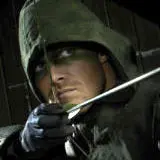 The CW took a chance with a lesser-known superhero in Green Arrow and their gamble has paid off handsomely.
Arrow starring Stephen Amell has been picked up for a full 22-episode order on the heels of the third episode's debut. That means there are 20 more episodes of Green Arrow fighting for truth and justice in Starling City to look forward to in the month's ahead.
Arrow's pickup comes as no surprise given the show's ratings performance thus far. The pilot premiere attracted a hair over 4 million total viewers and a very strong 1.3 in the 18-49 demo. More impressively and important to advertisers, the 1.3 demo rating did not fall from the premiere to the second episode, and the overall total viewers only slid only 15 percent to 3.5 million.
The CW's committal to Arrow should help stabilize the total viewers it already has and lure in some new ones who will pick up on today's news and wonder what all the fuss is about.
The next episode of Arrow, 'Lone Gunmen,' airs this upcoming Wednesday at 8/7c on The CW.