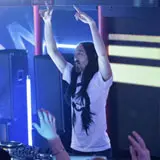 Tonight Arrow returns to The CW after a brief hiatus and brings international superstar DJ Steve Aoki and The Huntress (Jessica De Gouw) with it.
When we last left off, Oliver (Stephen Amell) was forced to out his identity to Tommy (Colin Donnell) as the vigilante. Though Oliver saved Tommy's father's (John Barrowman) life, Tommy has turned sour on his BFF now knowing that's he's been keeping a massive secret and has killed multiple people. Their friendship has taken a big blow, which will turn affect the relationship between Tommy and Lauren (Katie Cassidy).
Speaking of Lauren, she got a surprise visitor at the conclusion of the last episode in the form of her runaway mother Dinah (Alex Kingston) who brought news that Sarah, Lauren's sister, might still be alive. Look for Detective Lance (Paul Blackthorne) to get pulled into this new arc that may or may not turn up the presumed dead former fling of Oliver.
The big story tonight is the opening of Oliver's nightclub that will be DJ'ed by guest star Steve Aoki. As the preview images below show, all of the Arrow score cast will be in attendance, along with Helena aka The Huntress, who knows Oliver's true identity and strikes up a conversation with Tommy.
We have already seen in the preview trailer for the final Arrow episodes that Helena will be caught by the police and she will out Oliver as the vigilante. What we don't know is whether that will take place in tonight's episode or on another night.
Arrow episode 17 'The Huntress Returns' premieres tonight at 8/7c on The CW. It will be available to free online stream at The CW's website shortly thereafter. There is no free live online stream.