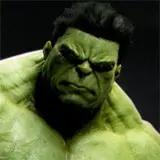 Another fan created poster for Marvel's The Avengers movie has made its way online and like the first, it's good enough to hang on your wall.
That first fan made Avengers poster was inspired by leaked official concept art of Chris Evans as Captain America and Chris Hemsworth as Thor. In addition to those two were only Iron Man and The Incredible Hulk.
This new one more than doubles the roster by adding Hawkeye, Ant-Man, Wasp and War Machine, as well as S.H.I.E.L.D. members Scarlett Johansson as The Black Widow and Samuel L. Jackson as Nick Fury. Credit for this fantastic Photoshop work goes to "the_mad_butcher" via Movie Viral.