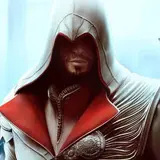 Ubisoft is turning their Assassin's Creed franchise into an annual event.
During the company's quarterly earnings call this morning, Ubisoft CEO Yves Guillemot revealed a new Assassin's Creed game is in the works. The unnamed game is due in stores before calendar year 2011 comes to a close.
There's no word yet on whether this new game will be another extension of Assassin's Creed 2 or Assassin's Creed 3. More information about the game will be released sometime in May with presumably it being playable at E3 in June.
The reason Ubisoft is pursuing annual entries in the Assassin's Creed franchise is simple. Last November's game, Assassin's Creed Brotherhood, has sold 6.5 million units across Xbox 360 and PS3 worldwide since its release, Guillemot stated. A PC version is due in stores next month which should push those sales numbers north of 7 million units.
By pumping out Assassin's Creed games within 12 months of one another, Ubisoft runs the risk of chasing their fans away if the franchise fails to evolve. The Italy setting is beginning to grow old and another adventure set there playing as Ezio might prove more a turn-off than enticement to return.