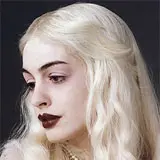 A fourth picture in a series of Tim Burton's Alice in Wonderland images featuring the cast with animals surprised us today after appearing over at Empire.
The image features Anne Hathaway as The White Queen studying what looks to be a Dormouse perched on her palm. This beauty shot joins previously released imagery of Johnny Depp as the Mad Hatter, Helena Bonham-Carter as the Red Queen, and Mia Wasikowska as a teenage Alice.
Hopes are running high that Tim Burton shares the first footage of Alice in Wonderland to the public at Comic-Con. If he does, which he probably will given Disney's huge 3D presence, expect to don a pair of glasses to view it if you're lucky enough to snag a seat in San Diego next week.
Check out the image of the White Queen below along with cleaner versions of the previously released images. Larger versions are available for your browsing pleasure over at Empire.