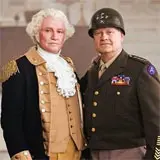 Vivendi Entertainment, a relative newcomer to the theatrical film business, has snatched up the rights to David Zucker's An American Carol per a report at Variety.com.
Zucker is, of course, best known for being the brains behind Airplane! and the Naked Guns films. On An American Carol he's the writer, director and co-producer.
An American Carol taps into Zucker's spoof film roots by following an anti-American filmmaker hellbent on destroying the Fourth of July holiday. In Christmas Carol fashion he is visited by three ghosts tasked with convincing him that America is a good place.
Look for An American Carol to search for laughs in theaters on October 3.
Do you think An American Carol will be funny or a bust? Chime in at the HDR Forums.