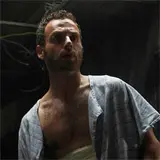 Amazon.com has begun taking pre-orders for the Blu-ray and DVD versions of AMC's The Walking Dead season one which will be distributed by Anchor Bay Home Entertainment.
AMC airs The Walking Dead in a letterboxed format so the home video edition should, in theory, fill the screen. All we can tell you right now about the Blu-ray version is that it carries a list price of $49.99. The release date is currently unknown, though my best guess would be sometime in early to mid 2011.
Pre-order The Walking Dead: Season One on Blu-ray for a discounted price at Amazon.com.